Hack Your Brain To Beat Procrastination
August 25, 2022 @ 5:00 pm

-

6:30 pm

Free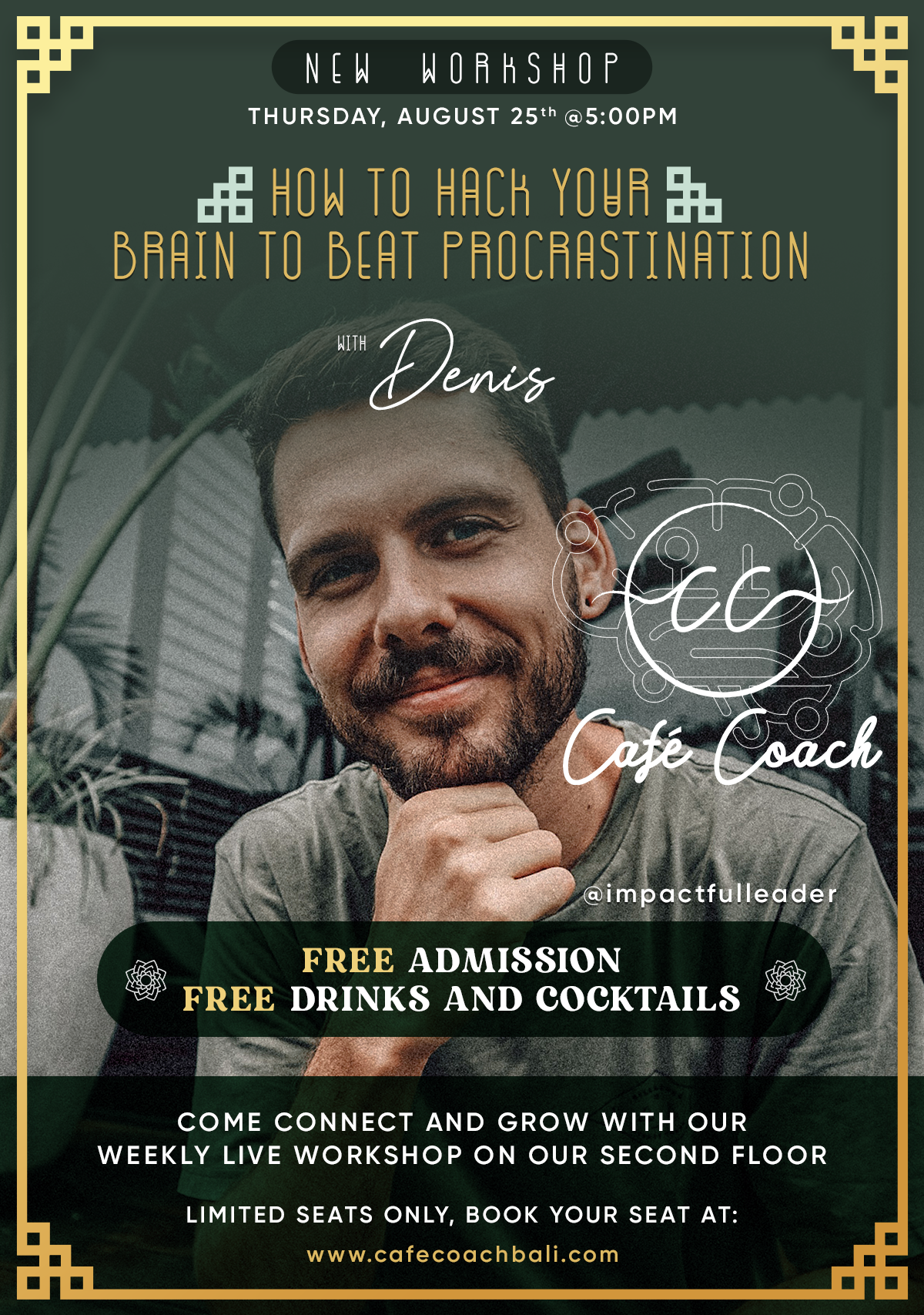 Have you ever felt like there is a part of you, that wants to
do more
is more excited
is more passionate
….BUT on the other hand, there is a part of you, that is/feels LAZY, UNMOTIVATED, and SLUGGISH every time you set a new goal, project, or launch your new offer in your business.Well, If that's you, then you will benefit from this upcoming workshop at Cafe Coach, where Denis Will Share his proven, practical, science-based process called "The End Of Digital Procrastinator"
Who is this workshop for? 
Coaches, Course Creators, Business owners, and consultants who are:
A)Struggling with Being consistent in their business throughout the entire month.
B)Forcing themselves to do the tasks that their business requires from them in order to hit the monthly revenue goals.
C)Working hard, until they're physically, mentally, and emotionally exhausted, hustling 16h per day with having little to nothing to show for it.
D)Experiencing that gut-wrenching feeling that they should spend their time more wisely and focus on things that really move the needle in business (even if they're not sure what that would be right now).
If you've said "YES"  at least 1x in your head, then this workshop is meant for YOU!
What you will learn?
-The Evolution of digital procrastinators
-Why do most Digital procrastinators get stuck even if they do know what to do in their business (whether that's a digital course, group program, or business mentors' guidance)
-3 invisible reasons that keep most Digital procrastinators from creating more impact in their business, AND how to get rid of them!
And so much more…
PLUS SPECIAL SURPRISE FOR ALL LIVE ATTENDEES WHO WILL SIGN UP AND COME TO CAFE COACH!
About Denis:
Denis is a High-performance specialist, brain-based coach, and full-time online entrepreneur for over 3 years helping online entrepreneurs and CEOs experience their personal and business breakthrough year, using power the of subconscious reprogramming, transformational psychology, and regulation of the nervous system.
Sign up for this workshop right now…